Do you need a tan? At Tan Athens, we have 5 levels of tanning beds and booths, all of them are ready to build and maintain your tan quickly!
Learn more about the levels of tanning: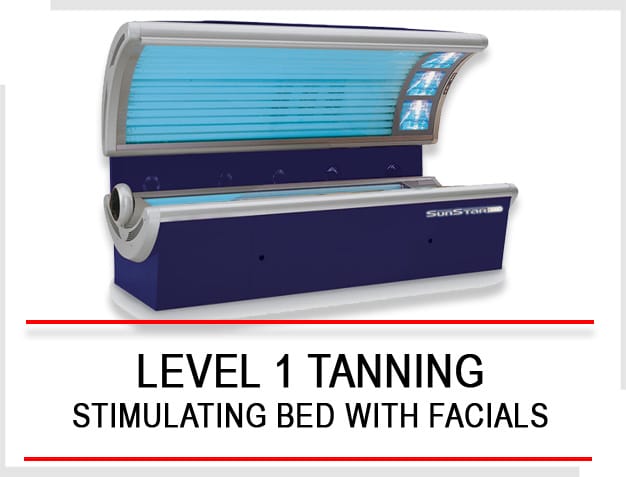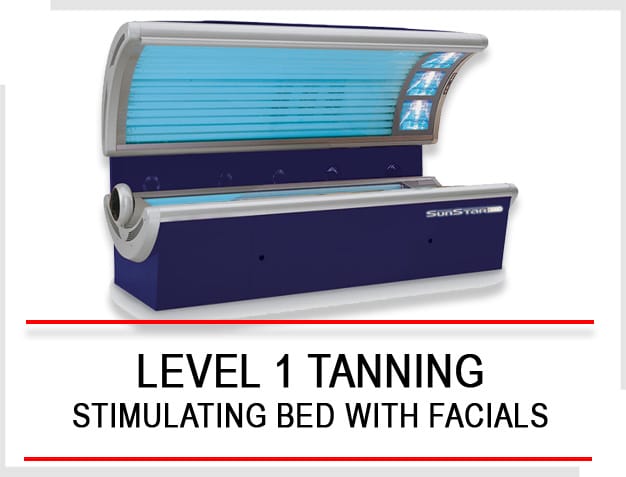 With stimulating and facial lamps our level 1 beds are the best for gaining and maintaining your base tan.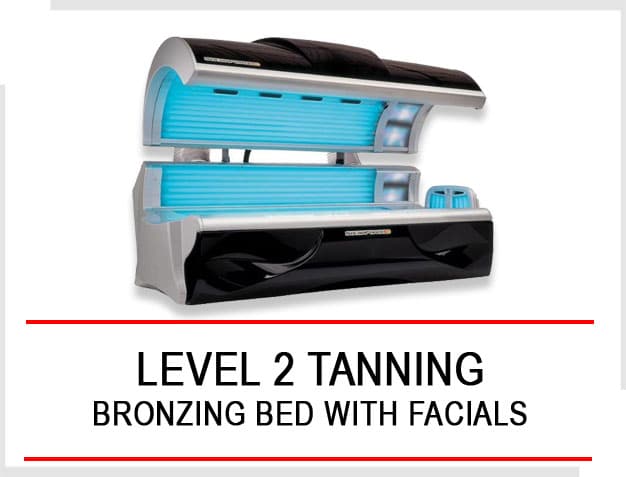 With bronzing, facial and shoulder lamps our level 2 beds will give you a base tan 2-3 times faster. Switch between stimulating and bronzing beds for a deeper darker tan!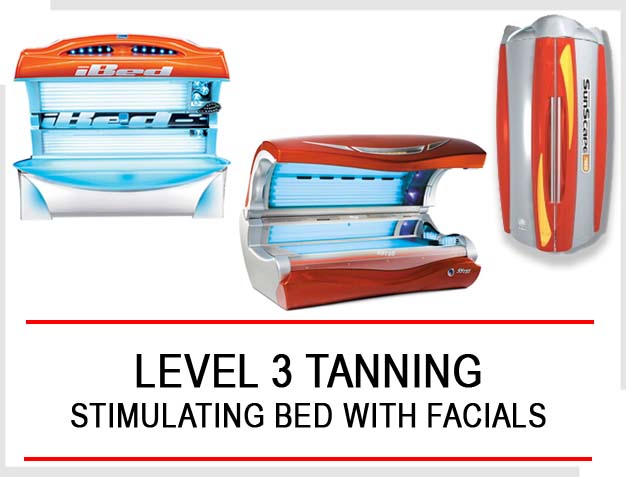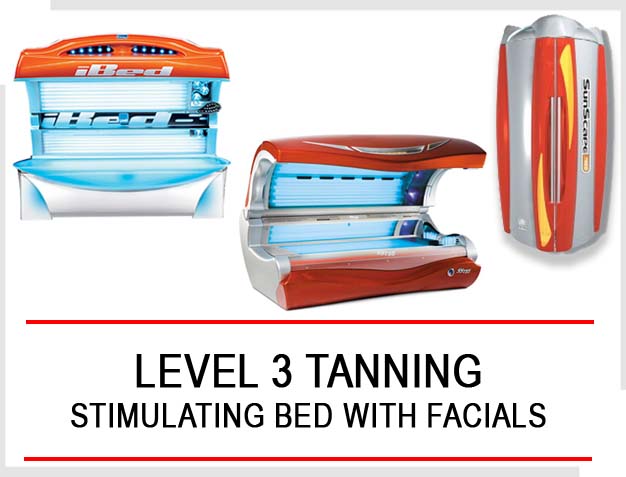 With stimulating, facial and shoulder lamps our level 3 beds will give you a base tan 3-5 times faster. Don't want to lay down? Try our booth!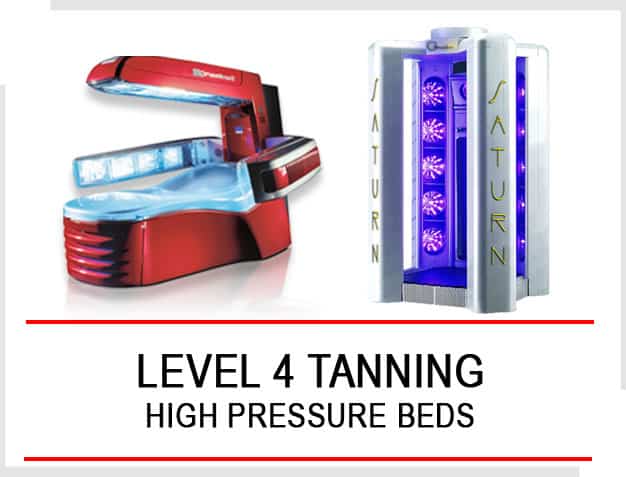 With all high pressure lamps our level 4 beds give you instant color! Get your base tan and maintain it with ease.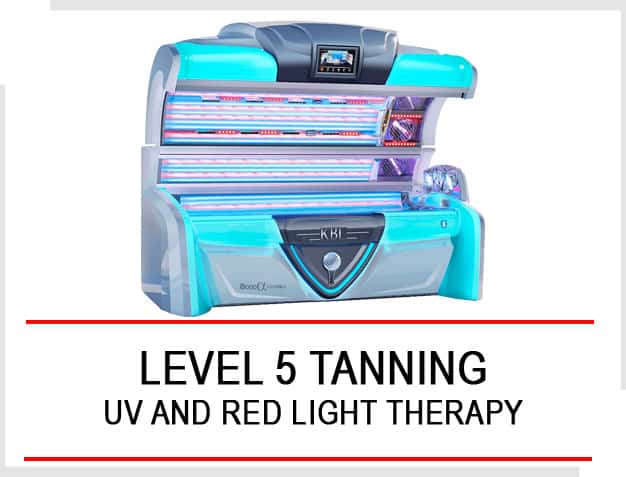 Combining the benefits of different spectral variants,  modern lamps and an intelligent controller connected to the Intelligent Control System. It imitates natural sunlight with all its effects on body and mind — from sensitive to intensive. Seventy HyperRed Beauty Boosters sooth the skin and create a natural looking tan!
Did you know?
Without lotion, it takes UV rays 7-10 minutes to penetrate dry skin! Click here to see the benefits of using tanning lotion.
---
NEED TO KNOW TANNING BASICS
---
UV Tanning
Tanning takes place in the skin's outermost layer, the epidermis, with special cells called melanocytes. When exposed to UV-B light (short wave ultraviolet), melanocytes produce the pigment, melanin. The pinkish melanin travels up through the epidermis and is absorbed by other skin cells. When exposed to UV-A light (longer wave), melanin oxidizes or darkens. This is your skin's way of protecting itself against too much UV light.
Why does a Tan Fade?
Cells in the epidermis are constantly reproducing and pushing older cells upward toward the surface of your skin, where they are sloughed off in about one month. As your skin replaces its cells, the cells laden with melanin are removed. So the tanning process must continue with the new cells.
Why is indoor tanning better than outdoor?
Speed – It doesn't take all day to get a tan indoors. Depending on your skin type, just a few minutes, not hours. Maintain your tan for as little as 60 minutes a month. Control – Our state-of-the-art equipment allows us to monitor and scientifically control your ultraviolet UV-A and UV-B exposure. We make sure you tan and not burn. Climate – Overcast, rainy, or 109 degrees in the shade, you never have to worry about the weather with your pleasant, climate-controlled environment.
Be Safe. Tan Smart
Lip and eye protection – Lips don't produce melanin and eyelids are too thin to block UV. That's why it's important to wear lip balm with sunscreen and protective eye goggles. Eyewear must be certified and approved by the FDA. We offer a selection of goggles that meet these Federal standards. You can avoid "Raccoon Eyes" by gently adjusting your goggles while you tan, but never remove them completely. Outdoors – When you tan outdoors, you are exposed to uncontrolled and often excessive amounts of multi-frequency UV that can cause "sunburn" and permanent damage. When you are outside, wear appropriate protection. Medication – Some medications can cause reactions with UV light. If you are taking any medications, please let your doctor know you're tanning.
For more information visit: http://www.tanningtruth.com | www.theita.com
Check out our daily specials! No Membership Required!
Visit us on Facebook to view our daily tanning and spray tanning specials! Walk-in's welcome!