Our Spray Tan Booth offers the

BEST

spray tan available. Using only the highest quality Norvell solutions, we eliminate the worry of looking orange and provide a fast drying, non-sticky tan. Norvell's patented blend of DHA and cosmetic bronzers result in Just off the Beach Color… EveryTime.
Step in our Spray Tan Booth TODAY, No Appointment Needed!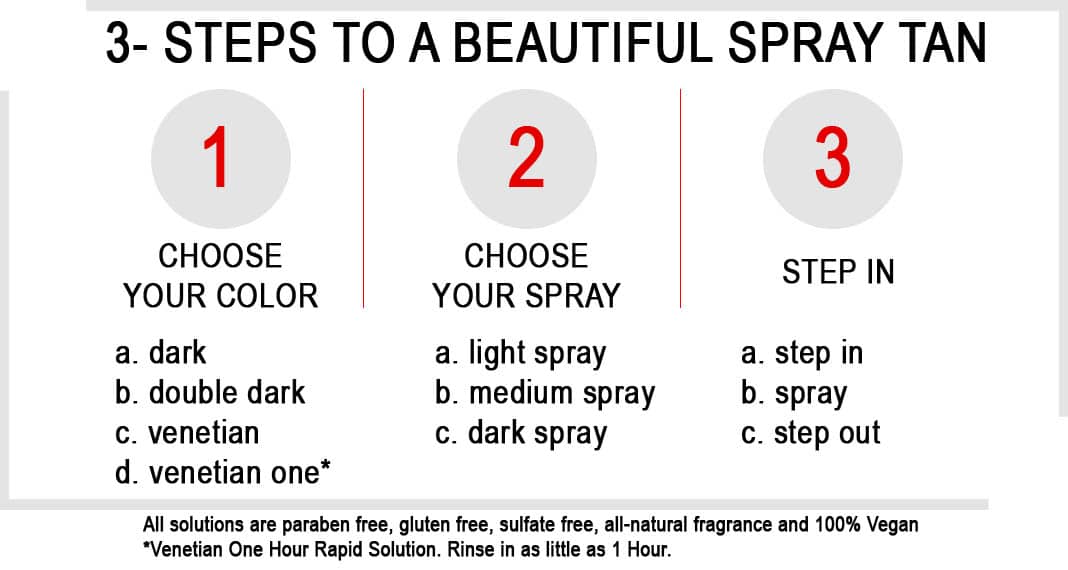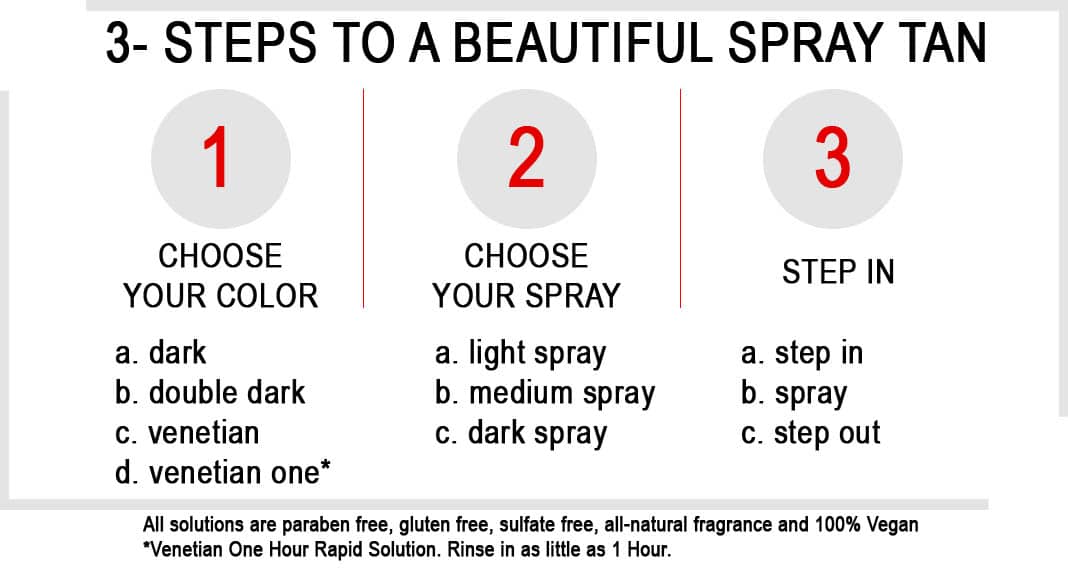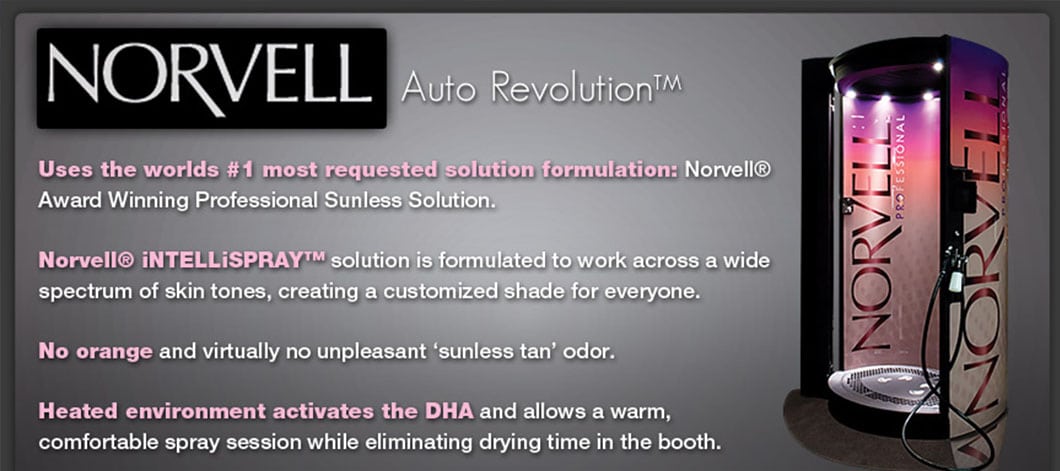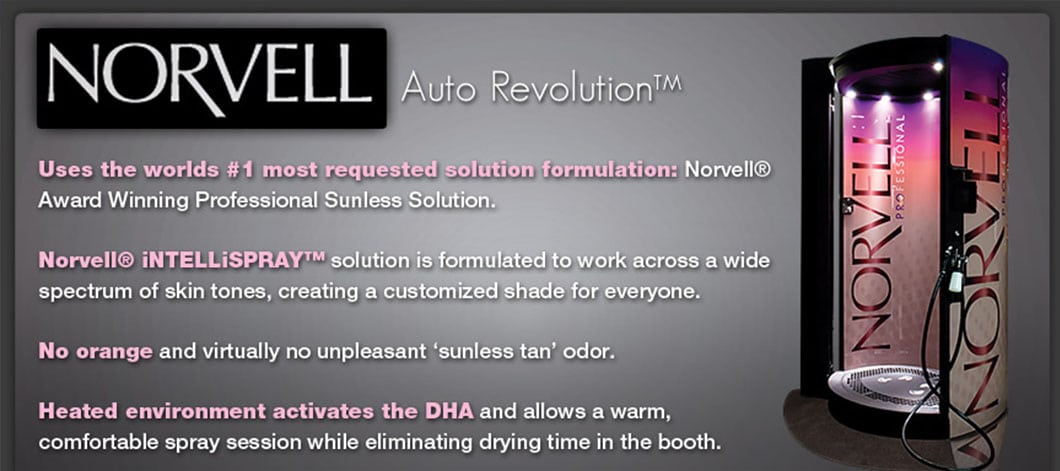 NORVELL AUTO REVOLUTION BOOTH
Become a Sunless Sensation!
Our Norvell Sunless Booth works with your skin's chemistry to give you the color you desire. It measures your height and width, completely customizing your session.
There are voice instructions throughout and virtually no dry time.  Your results will last 5-7 days depending on your body's natural exfoliation. In just minutes you will know why Tan Athens is your 1st choice for Spray Tanning.
OUR SPRAY TAN BOOTH OFFERS:
iNTELLiSPRAY™ Solution


Scientifically proven, meticulously formulated, first of its kind combination sunless solution. iNTELLiSPRAY™ . Now offering all organic solutions.
Integrated Height Sensing Technology


Equipped with height sensors, the auto booth calibrates the tanning session based on the height of the client, creating a completely customized session.
Recirculation Down-Draft Technology


Working with gravity, pulling solution downward, while warming and comforting the skin.
Heated Environment


Activates the DHA within the Norvell iNTELLiSPRAY™ Solution, virtually jump starting the tanning process.
Automated Voice Command – 2 Position Spray Session


No need for special dance instructions or elaborate movements. The revolution moves while you stay put.
Award Winning HVLP Design


The same award winning HVLP Spray Tanning design virtually simulates a handheld spraying session.
Virtually No Dry Time
Eliminates the worry of looking orange and provides a fast drying, non-sticky tan
---
GETTING THE MOST FROM YOUR NORVELL AUTO REVOLUTION TAN
BEFORE TANNING
Exfoliate entire body

Shave using soap and water only, no shaving cream

Moisturize skin with an oil free or water based lotion

For best results always avoid oil based or heavily perfumed products prior to your appointment
AFTER TANNING
Stay completely dry for 4-6 hours. Don't get wet or sweat!

Moisturize entire body every day, especially after bathing

Avoid exfoliating until you are ready to tan again

Avoid chlorinated and salt water
---
Norvell DHA solutions take about 16-hours to fully develop. You will receive the best results if you avoid bathing until the day after their sunless session. If you must bathe, wait a minimum of 6-8 hours after the application. If showering prior to the 16-hour post application recommendation, a simple rinse with water only, is best. Soap destroys DHA. Delayed bathing allows the DHA bronzer sufficient time to complete its reaction with the amino acids (proteins) within the skin.
NOTE: The cosmetic bronzer is the color that is immediately visible during the session and it will wash off during the first shower, revealing the DHA bronze tan beneath. 
ALL OF OUR SOLUTIONS ARE PARABEN FREE, GLUTEN FREE, SULFATE FREE, ALL NATURAL FRAGRANCES AND 100% VEGAN!
Check out our daily specials!
Visit us on Facebook to view our daily tanning and spray tanning specials! No membership required!